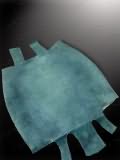 Implora Green Monitor Lizard Skin, Belly
→ Stock#: 0630 | Material: Salvator Monitor Lizard | Color: Green

Genuine Salvator monitor lizard skin.
Each hide has smiliar pattern and color but not exact. Skin measured by usable area (see picture), not overall size.

Click on picture to view larger.

We ship from Virginia. Christmas ordering deadline (US delivery address) : order by Dec 15 to ensure they arrive by December 24.