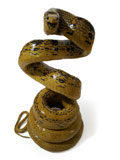 Copperhead Racer Snake Coiled Taxidermy Mount
→ Stock#: 0700 | Material: Copperhead Racer | Color: Tan

Approx. 9-11"H x 5-7"W.
Dimension depends on the style.
Genuine Copperhead Racer Snake taxidermy mount.
Each snake has similar style and shade but not exact.
Also known as Radiated Ratsnake

Click on picture to view larger.