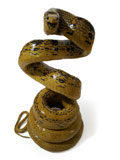 Copperhead Racer Snake Coiled Taxidermy Mount

→ Stock#: 0700 | Material: Copperhead Racer | Color: Tan

Approx. 9-11"H x 5-7"W.
Dimension depends on the style.
Genuine Copperhead Racer Snake taxidermy mount.
Each snake has similar style and shade but not exact.
Also known as Radiated Ratsnake



Click on picture to view larger.


PHONE ORDER: 1-804-715-0081
We are closed from Aug 10, 2019 - Aug 21, 2019. Any orders received on those dates will be processed on Aug 22, 2019. Express Shipping is not available in this time frame.