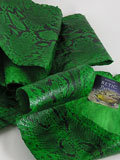 Implora Green Python Snakeskin
→ Stock#: 0282_06 | Material: Python Snake | Color: Green

Approx. 65"L x 6"W.
Genuine Reticulated Python snakeskin.
Professionally tanned/finished, pliable.
Each hide has smiliar pattern and shade but not exact.
Special order, 3 business days to process.

(As-Is. Non returnable).

Click on picture to view larger.