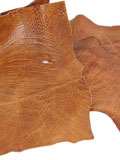 Tan Ostrich Knee Scraps 12H (3 pcs)
→ Stock#: 0511_03 | Material: Ostrich | Color: Tan

Approx. 7"W x 12"H.
3 pcs of Genuine Ostrich Knee Skin.
Scrap skins, might have some damage, size and quality are vary.
We will random pick.

(As-Is. Non returnable).

Click on picture to view larger.