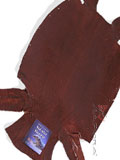 Implora Brown Monitor Lizard Skin

→ Stock#: 0442 | Material: Salvator Monitor Lizard | Color: Brown

Genuine Salvator monitor lizard skin.
Professionally tanned/finished, pliable.
Each hide has similar pattern but not exact.
Skin measured by usable area (see picture), not overall.



Click on picture to view larger.


PHONE ORDER: 1-804-715-0081
We are closed from June 28, 2018 - July 25, 2018. Any orders received on those dates will be processed on July 26, 2018. Express Shipping is not available in that time frame.